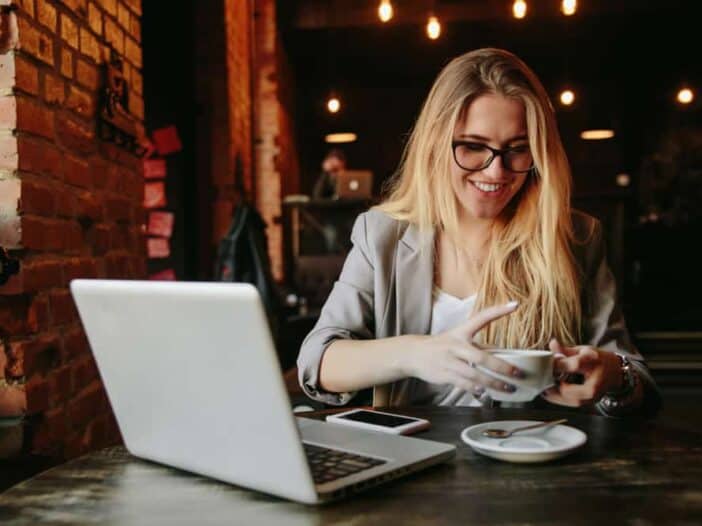 We'd Be Honored if You Shared This With Your Crowd!
Would you like to have breakfast with Christ in your office?
Discover ways to invite Him into your workplace and make each moment a sacred encounter.
Learn how to foster an attitude of gratitude and trust to cultivate an intimate connection with Christ.
Read on to explore this extraordinary experience and discover how to make it a part of your daily life!
Jesus said to them, "Come and have breakfast." None of the disciples ventured to question Him, "Who are You?" knowing that it was the Lord.

John 21:12 (NASB 1995)
Are you a Christian business owner who wants to improve your public witness for Christ through your business's presence in the community without losing your shorts or turning your business into a non-profit enterprise? If so, then you will not want to miss this article! Find out how you can invite Christ into your office for breakfast this week and gain remarkable insight and guidance through an intimate encounter with Him. Keep reading to discover how you can create a sacred space for Him in your office and foster an attitude of gratitude to cultivate an intimate connection with Him throughout the day.
Imagine for a minute that Christ manifested Himself to you in your office early on a Friday and asked you to share breakfast with Him. This extraordinary encounter would undoubtedly leave you in a state of awe and wonder. However, amid the excitement, one important question arises - who would you like to have by your side during this profound experience? Would you choose someone who shares your faith and could fully appreciate the significance of the moment? Or perhaps you would opt for someone who does not believe in Christ, hoping that such a miraculous occurrence would open their eyes to His existence and transformative power.
As you sit down with Christ for breakfast, it would likely fill your mind with many questions. What would you ask Him? Would you inquire about the meaning of life, the purpose behind suffering, or the way to achieve true happiness? Perhaps you would seek guidance on personal struggles and challenges, seeking His divine wisdom and understanding. The opportunity to have such an intimate and enlightening conversation with Christ is truly remarkable, and the depth of knowledge and insight that you could get from this encounter is simply immeasurable.
In contemplating the astonishing prospect of having breakfast with Christ in the physical realm, one cannot help but wonder why we wouldn't do it every day through prayer and thanksgiving. If Christ is indeed present in our lives, why do we not invite Him to share breakfast with us regularly? Perhaps the busyness and distractions of everyday life prevent us from acknowledging His constant presence and guidance. Maybe the lack of deep faith and trust stifles our ability to perceive His divine presence in our lives. It is a humbling realization that we have the choice and opportunity to commune with Christ through prayer and thanksgiving every day, yet often overlook this invitation.
Considering the significance and transformative potential of this experience, you may want ways to invite Christ into your office for breakfast this week. One approach could involve dedicating time each morning to prayer and reflection, allowing Christ to be your morning companion and guide. Creating a sacred space in the office, adorned with spiritual reminders and symbols, could serve as a daily reminder of His ever-present love and support. Fostering an attitude of gratitude and thanksgiving throughout the day can help cultivate an intimate connection with Christ, making each moment a sacred and purposeful encounter.
As Christian business owners, we have the amazing opportunity to connect with Christ every day. Imagine if His presence was a reality in your office - what questions would you ask Him? What wisdom would He share? Though it may feel like an impossible task, we can create meaningful encounters with Christ through prayer, reflection, and thanksgiving. Start this week by dedicating time to invite Him into your office and be open to His divine guidance and transformative power.
As a Christian business owner, you have the unique opportunity to invite Christ into your office every day. Find out how you can make use of this profound experience to share the Gospel with your customers and employees by downloading our free cheat sheet today at https://businessintegritymatters.com/christian-business-owner-cheat-sheet!

Unleash the Power of God's Blessings in Your Business with Bradley Waldrop – A True Authority in Business Integrity Matters
As a founding board member of Jacob's House and The Joseph Initiative, a steering committee member for University of California, Riverside's A.Gary Anderson Graduate School of Management, and the winner of the fastest growing small business inside a leading international professional services business, I have the knowledge and experience to help you navigate the challenges of business integrity matters. My role as an author, small group study leader, change agent, and non-profit board member, along with my past experience as a men's ministry director and successful business leader, uniquely qualifies me to help Christian business owners honor and glorify God in their businesses.
It's time to take your business to the next level by aligning your goals with God's blessings and honoring Him through your business practices. I will inspire you to tap into the power of God's blessings and provide you with practical strategies to integrate faith-based principles into your business operations. Together, we can make a positive impact in the business world while honoring God in all that we do.
Join me on social media to stay connected and be part of the community of Christian business owners committed to operating with integrity and honoring God in their businesses. Together, we can make a difference and inspire others to follow in our footsteps.
We'd Be Honored if You Shared This With Your Crowd!