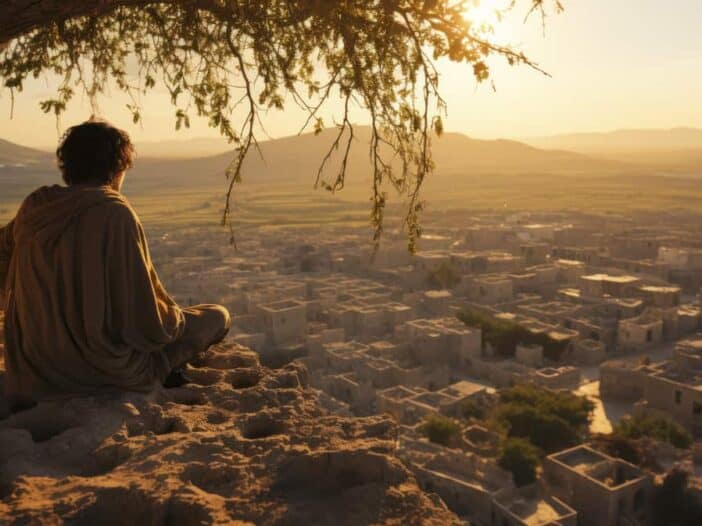 We'd Be Honored if You Shared This With Your Crowd!
Uncover the power of the Bible in the workplace by studying with your coworkers
Deepen your understanding of the scriptures and one another
Discover how to practically apply God's word to your work and be prepared to be amazed! Read on for the whole story.
The word of the Lord came to Jonah the son of Amittai saying, 2 "Arise, go to Nineveh the great city and cry against it, for their wickedness has come up before Me."

New American Standard Bible: 1995 update (Jon 1:1–2). (1995). The Lockman Foundation.
Are you a Christian business owner looking to make a difference in your community while still holding true to your faith? If so, then keep reading and discover how one Christian business owner found a way to improve their public witness for Christ without coming across as too preachy or a bible thumper. Learn how bringing the Bible to work can be the catalyst for spiritual and professional growth for you and your coworkers.
I regularly show up for work early. It's become a part of my routine, a habit that I hold dear. There's something peaceful about starting the day before the hustle and bustle of the office kicks in. And for the longest time, I spent those first precious 30 minutes buried in the Bible, doing some independent study.
It didn't take long for my coworkers, the other early risers, to notice my routine. They would walk by my office and catch a glimpse of me engrossed in the pages of scripture. Curiosity got the better of them, and one by one, they started coming into my office, asking what I was doing.
With a smile, I replied that I was simply trying to sort out the meaning of these biblical stories and how to practically apply them to work. And that's when the magic started to happen. Their interest piqued, they began to ask more questions, eager to learn and understand.
In an effort to accommodate the growing numbers, I decided to move our little gathering from my office to the conference room. I made it clear that the door was always open, inviting them to come in and join me in unpacking the wisdom of the Bible.
And much to my surprise, something amazing happened. What started as a small group of curious individuals grew into a steady gathering of six like-minded souls. As the number stabilized, we came to a consensus – we would study the book of Jonah together.
The reason for choosing Jonah was simple. I always felt a kinship with Jonah, as if I too was being chased down by the Lord, just as he was. It's an easy book to read, and yet the lessons it imparts are profound and transformational when truly absorbed.
We made a commitment to read one chapter of Jonah each week and then come together to discuss what we had learned and how it applied to both our personal lives and our work lives. The conversations were rich and enlightening, deepening our understanding of not just the scriptures, but also of one another.
To witness the Holy Spirit at work, providing insight and understanding to my coworkers, was awe-inspiring. Our little experiment in the office became a catalyst for growth, both spiritually and professionally.
This journey didn't end with Jonah though. The thirst for knowledge grew, and we embarked on a study of the book of John, delving deeper into the teachings of Christ. It was during this time that I began to truly understand how to practically apply God's word to our work.
And so, I urge you, dear reader, to consider what would happen if you brought your Bible into the office and studied alongside your coworkers. Imagine the impact you could have on their lives, the ways in which you could transform your workplace.
However, I must offer a word of caution. Once you allow the Holy Spirit to take control of these situations, be prepared to be amazed. Change will come, but it begins with someone deciding to do something different. Let that someone be you. Christian business owners, don't let this opportunity pass you by! Unpacking the wisdom of the Bible with your coworkers is a transformational experience that can have lasting effects on your professional and spiritual lives. Taking the first step to bring your Bible into the office and starting a discussion with your coworkers is an act of faith that can open the door to a deeper understanding and appreciation of God's word. So don't hesitate - start today and be prepared to be amazed at the impact you can have!

Unleash the Power of God's Blessings in Your Business with Bradley Waldrop – A True Authority in Business Integrity Matters
As a founding board member of Jacob's House and The Joseph Initiative, a steering committee member for University of California, Riverside's A.Gary Anderson Graduate School of Management, and the winner of the fastest growing small business inside a leading international professional services business, I have the knowledge and experience to help you navigate the challenges of business integrity matters. My role as an author, small group study leader, change agent, and non-profit board member, along with my past experience as a men's ministry director and successful business leader, uniquely qualifies me to help Christian business owners honor and glorify God in their businesses.
It's time to take your business to the next level by aligning your goals with God's blessings and honoring Him through your business practices. I will inspire you to tap into the power of God's blessings and provide you with practical strategies to integrate faith-based principles into your business operations. Together, we can make a positive impact in the business world while honoring God in all that we do.
Join me on social media to stay connected and be part of the community of Christian business owners committed to operating with integrity and honoring God in their businesses. Together, we can make a difference and inspire others to follow in our footsteps.
We'd Be Honored if You Shared This With Your Crowd!