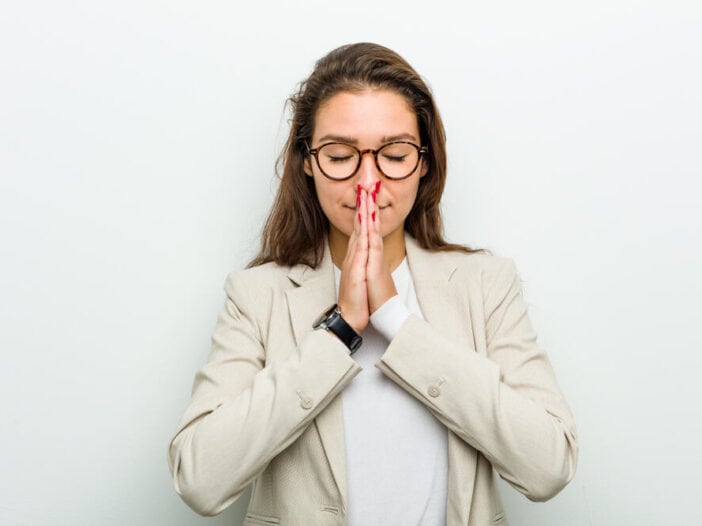 We'd Be Honored if You Shared This With Your Crowd!
Discover how prayer can transform your workplace culture and improve your business's public witness for Christ without sacrificing financial success.
Learn the benefits of praying for your employees, including increased job satisfaction, emotional support, enhanced productivity, and a positive company reputation.
Find out how to implement prayer in your business, with practical tips on commitment, confidentiality, and inclusivity. Read on for the whole story and unlock the power of prayer in your workplace.
Be anxious for nothing, but in everything by prayer and supplication with thanksgiving let your requests be made known to God



New American Standard Bible: 1995 Update (La Habra, CA: The Lockman Foundation, 1995), Php 4:6.
Are you in search of ways to improve your business's public witness for Christ, while still maintaining a profitable and efficient enterprise? As a follower of Christ, you have a unique opportunity to positively impact your workplace culture by incorporating prayer into your business practices. By interceding on behalf of your employees, you can foster a supportive and Christ-centered environment without sacrificing financial success.
Why Pray for Your Employees:
Prayerful leadership has an incredible power to transform individuals and situations, and the workplace is no exception. By lifting your employees up in prayer, you invite God's presence into their lives, which can bring about positive changes both personally and professionally. Not only does prayer deepen your connection with God, but it also strengthens your relationships with your team members.
Benefits of Praying for Your Employees:
1. Increased Sense of Belonging: When employees know they are being actively prayed for, it fosters a sense of belonging and camaraderie. This boosts morale, encourages teamwork, and enhances overall job satisfaction.

2. Emotional and Spiritual Support: The challenges and stresses of the workplace can be overwhelming. Through prayer, you can offer emotional and spiritual support to your employees by seeking God's guidance, comfort, and peace for them. This practice encourages resilience, reduces anxiety, and promotes mental well-being.

3. Enhanced Productivity and Performance: Studies have shown that workers who feel valued and supported are more likely to be engaged and motivated. By praying for your employees, you create an environment where they feel valued and cared for, ultimately leading to increased productivity and improved performance.

4. Positive Company Reputation: As a Christian business owner, your public witness for Christ is crucial. Praying for your employees shows your genuine concern for their welfare and reinforces your commitment to live out your faith in the workplace. This can create a positive reputation for your business, attracting like-minded customers and clients.
Implementing Prayer in Your Business:
1. Commitment: Dedicate time in your daily routine to prayer for your employees. Be intentional and consistent in seeking God's blessing, guidance, and protection for each team member.

2. Confidentiality: Respect the privacy of your employees and their personal situations. Focus on general prayers for growth, success, and overall well-being unless they specifically request otherwise. As you come to find out personal struggles they are working through, be sure to capture them in your prayer journal. This keeps your prayer relevant and powerful.

3. Inclusivity: Be sensitive to the diverse beliefs and backgrounds within your workplace. Ensure that your approach to prayer is inclusive and respectful, creating a safe space for everyone, regardless of their faith. The beautiful part of prayer is that it is private. As you pray for those with diverse backgrounds, you mimic God's unconditional love and open doors to grace.

Integrating prayer into your business practices can have a profound impact on your workplace culture. By lifting your employees up in prayer, you not only create a supportive environment but also witness to the transformative power of Christ's love. Let your public witness for Christ shine brightly through your business's presence in the community.

Through prayer, you can change the culture at work, invoking positive change and extraordinary growth. May the Lord bless you abundantly as you seek to glorify Him in every aspect of your business.
Are you ready to transform your workplace culture and bring the power of prayer into your business practices? Discover how to use your business as a platform to share the Gospel with your customers, clients, and employees. Get our free cheat sheet on "How to Use Your Business to Share the Gospel" by visiting https://businessintegritymatters.com/christian-business-owner-cheat-sheet. Equip yourself with practical strategies and insights to create a supportive and Christ-centered environment in your workplace. Start making a positive impact today!

Unleash the Power of God's Blessings in Your Business with Bradley Waldrop – A True Authority in Business Integrity Matters
As a founding board member of Jacob's House and The Joseph Initiative, a steering committee member for University of California, Riverside's A.Gary Anderson Graduate School of Management, and the winner of the fastest growing small business inside a leading international professional services business, I have the knowledge and experience to help you navigate the challenges of business integrity matters. My role as an author, small group study leader, change agent, and non-profit board member, along with my past experience as a men's ministry director and successful business leader, uniquely qualifies me to help Christian business owners honor and glorify God in their businesses.
It's time to take your business to the next level by aligning your goals with God's blessings and honoring Him through your business practices. I will inspire you to tap into the power of God's blessings and provide you with practical strategies to integrate faith-based principles into your business operations. Together, we can make a positive impact in the business world while honoring God in all that we do.
Join me on social media to stay connected and be part of the community of Christian business owners committed to operating with integrity and honoring God in their businesses. Together, we can make a difference and inspire others to follow in our footsteps.
We'd Be Honored if You Shared This With Your Crowd!