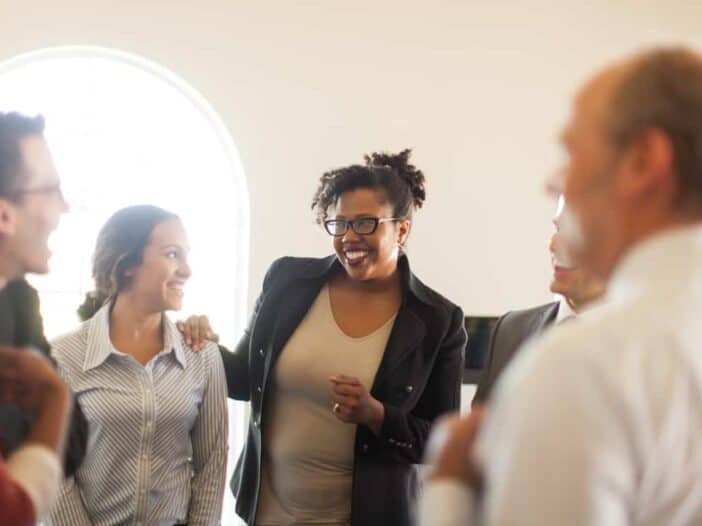 We'd Be Honored if You Shared This With Your Crowd!
Do you want to make a positive impact in your work life and community?
Discover how to practically apply the teachings of Hebrews 12:14 in your workplace.
Learn how to make peace with those you've been frustrated with and create a harmonious work environment. Read on to learn how!
In this blog post, we discuss how the teachings of Hebrews 12:14 can apply to our work lives to foster peace and understanding in our teams, and to create a workplace that reflects the love and grace of Christ. So don't miss out - keep reading and discover how to make a lasting impact through your work.
Pursue peace with all men, and the sanctification without which no one will see the Lord.

New American Standard Bible: 1995 update (Heb 12:14). (1995). The Lockman Foundation.
The truth of the Bible verse in Hebrews 12:14 can have a profound impact on our work lives. Many of us have experienced situations where battles at work tempt us to shut down.. Whether it's dealing with disrespectful customers, peers who ignore our suggestions, bosses who cannot see our perspective, or suppliers who don't value customer relationships, these challenges can be disheartening. Our natural inclination may be to fight back against these situations and the people behind them. However, if we truly understand the grace and mercy that Christ has provided us, we should strive to extend that same grace and mercy to others.
While it is important to offer grace and mercy, blindly doing so at the expense of others and the functioning of our teams is not acceptable. Instead, we can practically apply the teachings of this verse to our work lives. The first step is to pray for God's intervention in the situation, recognizing that we are all sinful beings in need of forgiveness. We should also remember that our sanctification comes through Christ's sacrifice. With this mindset, we can work to protect our teams and our companies from the dysfunction caused by those who seek to harm them.
Besides seeking God's guidance, we can also adopt a different approach by asking questions rather than accusing others of wrongdoing. This helps to deescalate situations and promotes understanding and resolution. It requires humility and a willingness to see beyond our frustrations. By making peace with those that frustrate us, we can create a more harmonious and productive work environment.
The benefits of this approach are far-reaching. Making peace with others not only brings personal growth and peace of mind, but it also positively impacts our companies and those who do not yet know Christ. When we choose to see others, even those who upset us, as children of God who Christ is pursuing, our perspective shifts. We see the potential for transformation and the opportunity to make a positive impact through our challenges and how we respond to them.
Today, we have the power to do something different in our words and actions. By implementing the practical applications of God's word to work, we can create a workplace that reflects the love and grace of Christ. Imagine the impact we can make when we see others as children of God, regardless of their actions towards us. Together, we have the power to transform our work lives and leave a lasting impression on those around us.
Christian business owners can make a powerful impact in their work lives, and in the lives of those around them, by applying the teachings of Hebrews 12:14. This means praying for God's intervention in times of challenge, and approaching those who may seem to be our enemies with respect and humility. Taking this action not only brings peace of mind and personal growth, but it also offers the opportunity to reach out to those who do not yet know Christ. Now is the time to see others as God's children and to use our words and actions to show them grace and mercy. Don't wait any longer - start making a difference today!
Have you ever faced difficult situations at work? Discover how to use your business to share the gospel with your customers, clients, and employees. Check out our free cheat sheet at https://businessintegritymatters.com/christian-business-owner-cheat-sheet and start making a difference today.

Unleash the Power of God's Blessings in Your Business with Bradley Waldrop – A True Authority in Business Integrity Matters
As a founding board member of Jacob's House and The Joseph Initiative, a steering committee member for University of California, Riverside's A.Gary Anderson Graduate School of Management, and the winner of the fastest growing small business inside a leading international professional services business, I have the knowledge and experience to help you navigate the challenges of business integrity matters. My role as an author, small group study leader, change agent, and non-profit board member, along with my past experience as a men's ministry director and successful business leader, uniquely qualifies me to help Christian business owners honor and glorify God in their businesses.
It's time to take your business to the next level by aligning your goals with God's blessings and honoring Him through your business practices. I will inspire you to tap into the power of God's blessings and provide you with practical strategies to integrate faith-based principles into your business operations. Together, we can make a positive impact in the business world while honoring God in all that we do.
Join me on social media to stay connected and be part of the community of Christian business owners committed to operating with integrity and honoring God in their businesses. Together, we can make a difference and inspire others to follow in our footsteps.
We'd Be Honored if You Shared This With Your Crowd!